¶ 1 Leave a comment on paragraph 1 0
¶ 2 Leave a comment on paragraph 2 0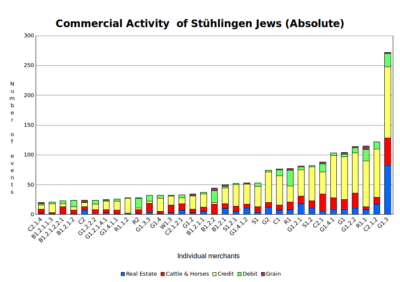 Figure 8. Absolute commercial pattern of 34 most active merchants.
¶ 3 Leave a comment on paragraph 3 0 This bird's eye view of business trans­ac­tions un­for­tu­na­te­ly does not pro­vide us with a de­tailed break­down of the bu­si­ness mix of in­di­vi­dual mer­chants. It is com­pa­tib­le with any de­gree of com­mer­cial spe­cia­lization, or lack there­of. Of the 131 mer­chants, se­ven­ty-­one con­tribu­ted less than ten re­cor­ded trans­ac­ti­ons each, an­other twen­ty-six mer­chants bet­ween ten and nine­teen trans­ac­tions each. We se­lec­ted the re­mai­ning thirty-four mer­chants with twen­ty or more trans­actions for de­tailed in­spec­tion. Mer­chants were sor­ted ac­cor­ding to the num­ber of total trans­ac­tions and the data from the ar­chi­val re­cords pre­sen­ted as stacked column graphs, both as absolute values (fig. 8) and in percentages (fig. 9).
¶ 4 Leave a comment on paragraph 4 0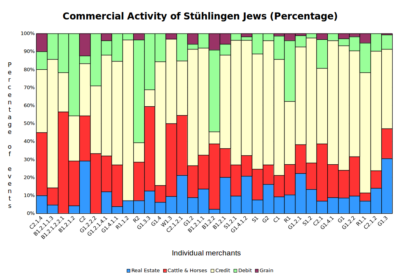 Figure 9. Percentage commercial pattern of the 34 most active merchants.
¶ 5 Leave a comment on paragraph 5 0 Since we are pri­ma­ri­ly in­te­res­ted in pat­terns of eco­no­mic ac­ti­vi­ty ra­ther than in­di­vi­dual per­for­man­ce, on­ly eve­ry second mer­chant is la­bel­led by his iden­ti­fi­er. From fi­gure 8 it is quite evi­dent, that one mer­chant Ma­rum Gu­gen­heimb (G1.3), Je­koff's son, who was ac­ti­ve from 1632 on and died in 1685/6, sticks out from the crowd. He must have had a spe­cial knack for bu­si­ness and ap­pears quite pro­mi­nent­ly in Peter Stein's at­tempt at re­con­structing the Jewish community of Stühlingen.33 But because of Marum's dominance, figure 8 is not suitable for comparing the business spectrum of individuals. Figure 9 shows the same data but in a relative representation. In this graph, we can now see that the merchants all employed practically similar patterns of business mix.
33 Stein, "Die Juden zu Stühlingen."